Furniture Knurled Cabinet Handles
Furniture Knurled Cabinet Handles
Knurled cabinet handles are a type of cabinet hardware that are designed with a knurled texture on the surface for a better grip. The knurled pattern provides a unique aesthetic appeal to the handles while also making them easier to grasp and pull. These handles are commonly used in kitchen cabinets, bathroom vanities, and other furniture pieces.
The knurled texture on the handles is achieved through a process of cutting or rolling the surface of the metal. This creates a pattern of small, raised bumps that provide a tactile surface for the fingers to grip. The texture also adds a sense of depth and dimension to the handle, making it stand out from other types of cabinet hardware.
Knurled cabinet handles come in a variety of finishes, including stainless steel, brass, and black. The finish of the handle can be chosen to match the overall style and color scheme of the room or furniture piece. Some handles also come with other decorative elements, such as colored inserts or inlaid stones, to add even more visual interest.
In addition to their aesthetic appeal, knurled cabinet handles are also durable and long-lasting. The texture of the handle provides a secure grip that is less likely to slip, and the metal construction ensures that the handle will withstand regular use over time. This makes them a practical and stylish choice for any space.
Item Code
Length×Hole Spacing
Material
Finish&Color
MOQ
N.W
VH0081-T50
T-bar 50mm
Knurled Brass
Brushed  Brass
50
54g
VH0081-96
130*96cc
Knurled Brass
Brushed  Brass
50
139g
VH0081-128
160*128cc
Knurled Brass
Brushed  Brass
50
160g
VH0081-160
190*160cc
Knurled Brass
Brushed  Brass
50
192g
VH0081-192
224*192cc
Knurled Brass
Brushed  Brass
50
221g
Support Custom Size And Finishes
Be sure to read this quick guide thoroughly before installing your handles or drawer knobs.
Making sure that you have the correct size and type of screw for the drawer/cupboard you're fixing to is imperative to prevent damage to the handles or knobs during installation.
It is important that you don't use an electric screwdriver when installing the handles or knobs, as they cause the screw to over tighten and snap.
For handles, t-bars and drawer knobs: to help retain their colour do not use abrasive cleaning products or equipment to clean these products.
The correct screw size: If you have a 20mm thick drawer or door and a handle/knob with a 9mm internal thread, then the 25mm screw included is appropriate.
However, if you are fixing the handle/knob to a 10mm thick drawer or door, then the 25mm screw provided is too long and you will need to source a shorter screw. The same applies if the 25mm screw provided is too short, you will need to source a longer screw. All our knobs and handles are suitable for a standard M4 machine bolt, apart from the chunky skyscrapers which are M5.
Note: If the handle/knob spins whilst installing, double check the screw length as it's likely to be too long.
For handles, t-bars and drawer knobs we advise that you make sure the screw is no longer than the depth of the handle and drawer combined. For drawer pulls and handles we advise that you make sure the screw is shorter than the depth of the handle and drawer combined.
Important: If you are in any doubt, STOP and seek professional help. Do not proceed unless you are sure.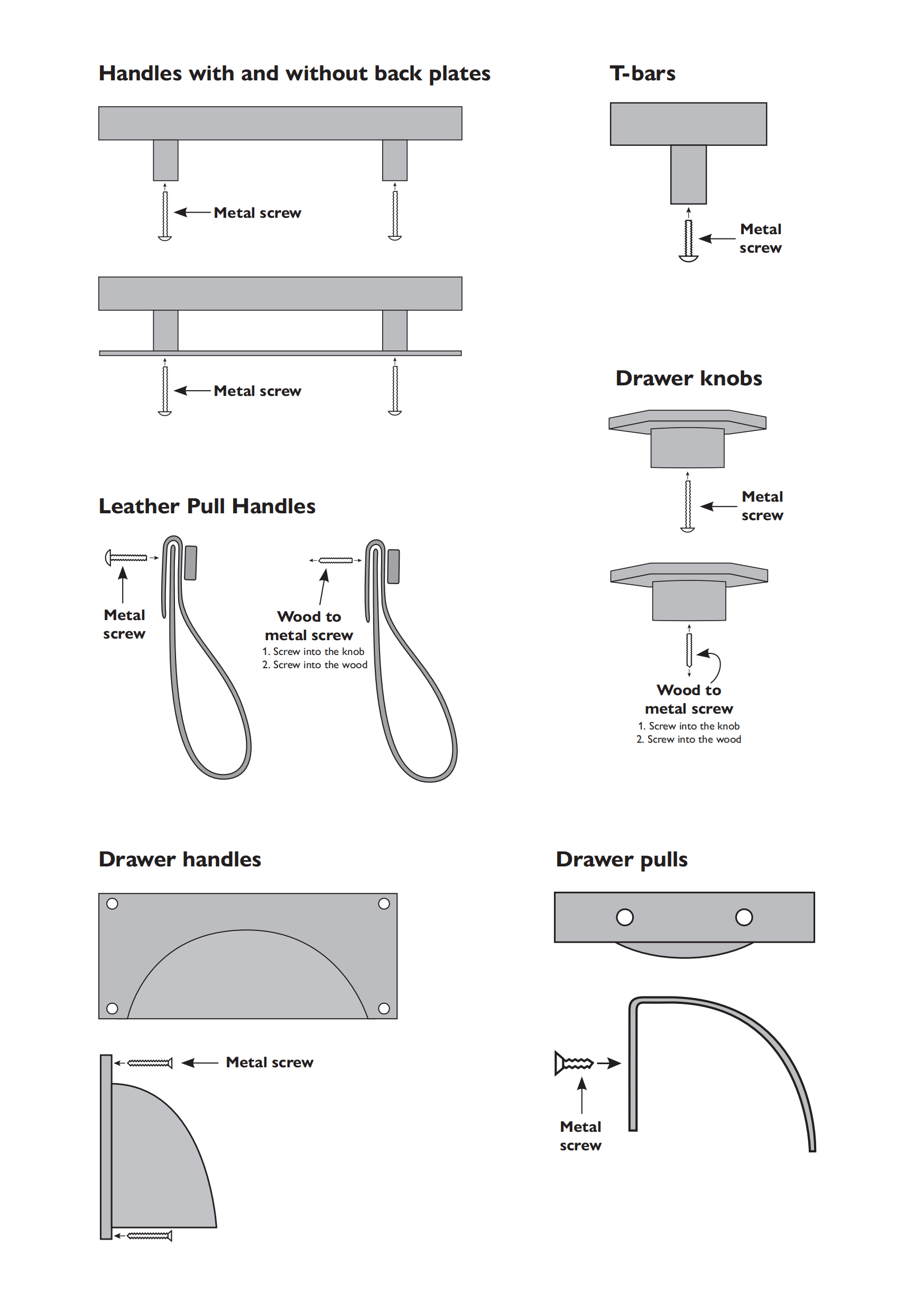 While our brushed solid brass cabinet hardware is lacquered to prevent corrosion, we do recommend regular cleaning with a microfibre cloth and warm soapy water followed by drying the product thoroughly. As brass is a soft material, please avoid using any harsh chemicals or abrasive cloths when cleaning.
By following the steps above you will prolong the life of the lacquer, but as with all solid brass hardware please be aware that natural aging to this beautiful material is to be expected.
Check more detail on our FAQ page.