Furniture Knurled Cabinet Hardware
Furniture Knurled Cabinet Hardware
Upgrade your cabinets with our high-quality knurled cabinet hardware. Crafted from durable materials, our hardware provides both style and functionality to your cabinets. Choose from a variety of sizes, finishes, and designs to match your decor perfectly. The knurled texture adds a modern and industrial look to any room. Our cabinet hardware is ideal for cabinets, drawers, and doors, and will add a touch of sophistication to your home. Shop now to find the perfect knurled cabinet hardware for your renovation project.
Item Code
Length×Hole Spacing
Material
Finish&Color
MOQ
N.W
VH0054-T80
T-bar L:80
Brass
Knurled Brushed
50
95g
VH0054-96
130*96
Brass
Knurled Brushed
50
125g
VH0054-128
160*128
Brass
Knurled Brushed
50
152g
VH0054-160
200*160
Brass
Knurled Brushed
50
192g
VH0054-224
260*224
Brass
Knurled Brushed
50
260g
VH0054-360
360*320
Brass
Knurled Brushed
50
360g
Support Custom Size And Finishes
Be sure to read this quick guide thoroughly before installing your handles or drawer knobs.
Making sure that you have the correct size and type of screw for the drawer/cupboard you're fixing to is imperative to prevent damage to the handles or knobs during installation.
It is important that you don't use an electric screwdriver when installing the handles or knobs, as they cause the screw to over tighten and snap.
For handles, t-bars and drawer knobs: to help retain their colour do not use abrasive cleaning products or equipment to clean these products.
The correct screw size: If you have a 20mm thick drawer or door and a handle/knob with a 9mm internal thread, then the 25mm screw included is appropriate.
However, if you are fixing the handle/knob to a 10mm thick drawer or door, then the 25mm screw provided is too long and you will need to source a shorter screw. The same applies if the 25mm screw provided is too short, you will need to source a longer screw. All our knobs and handles are suitable for a standard M4 machine bolt, apart from the chunky skyscrapers which are M5.
Note: If the handle/knob spins whilst installing, double check the screw length as it's likely to be too long.
For handles, t-bars and drawer knobs we advise that you make sure the screw is no longer than the depth of the handle and drawer combined. For drawer pulls and handles we advise that you make sure the screw is shorter than the depth of the handle and drawer combined.
Important: If you are in any doubt, STOP and seek professional help. Do not proceed unless you are sure.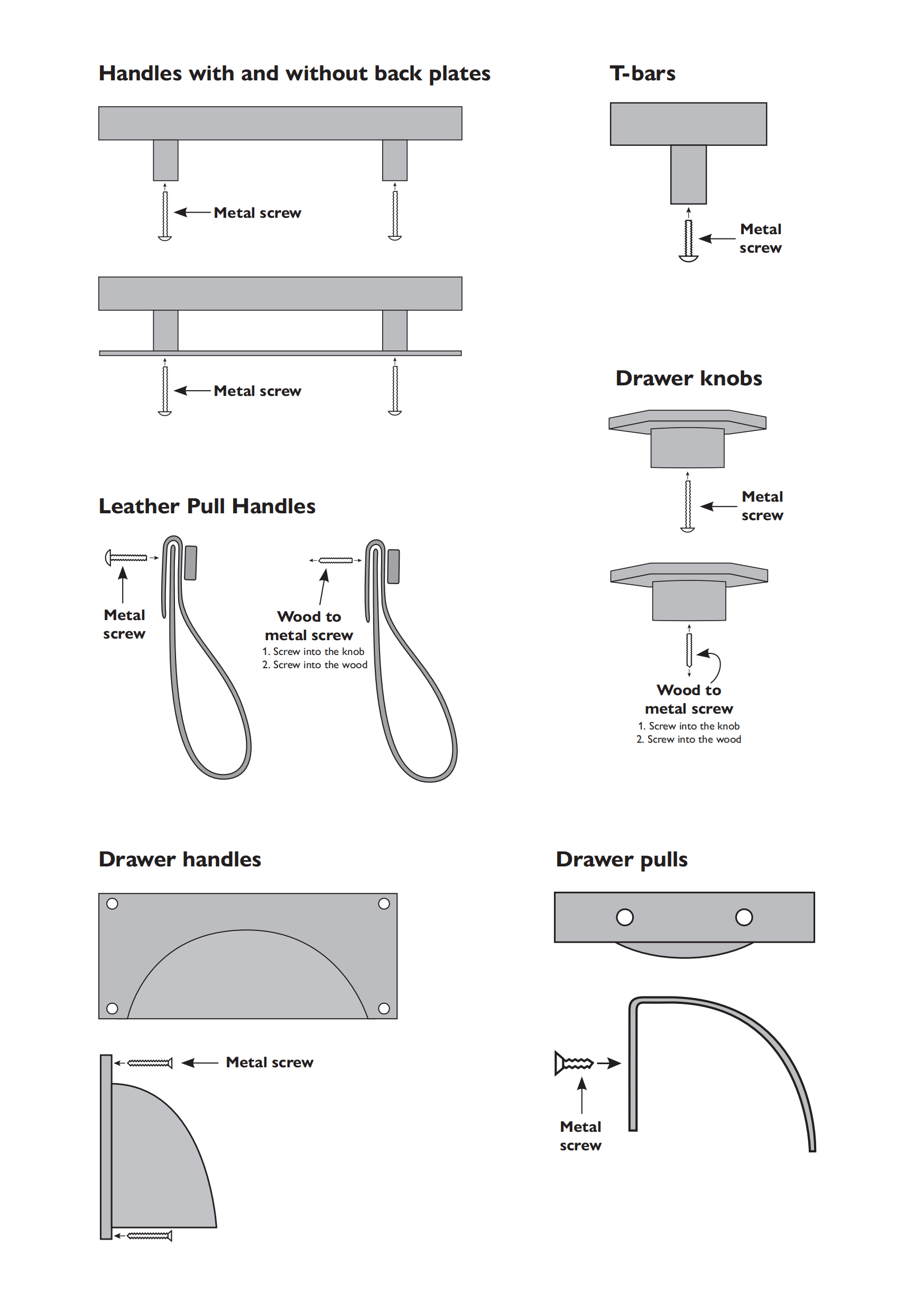 While our brushed solid brass cabinet hardware is lacquered to prevent corrosion, we do recommend regular cleaning with a microfibre cloth and warm soapy water followed by drying the product thoroughly. As brass is a soft material, please avoid using any harsh chemicals or abrasive cloths when cleaning.
By following the steps above you will prolong the life of the lacquer, but as with all solid brass hardware please be aware that natural aging to this beautiful material is to be expected.
Check more detail on our FAQ page.