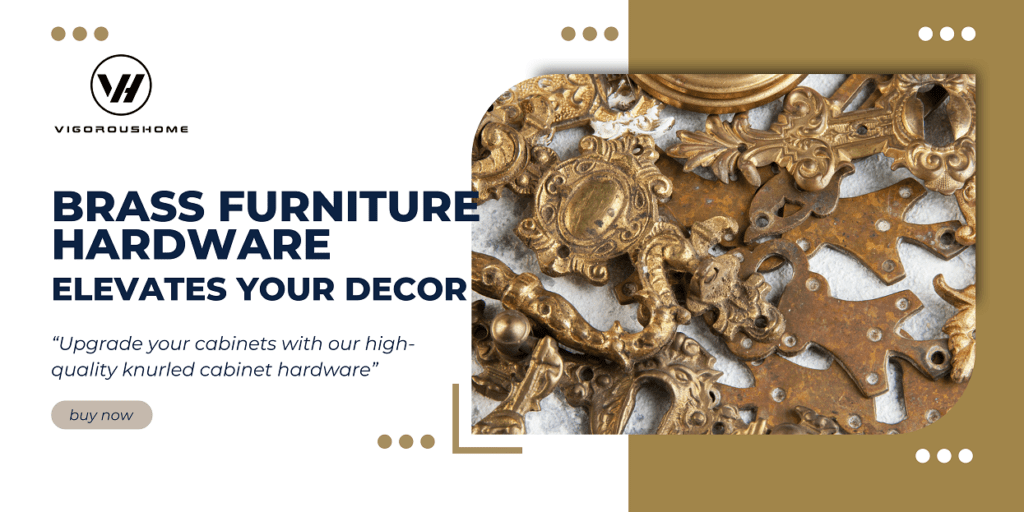 Brass is ideal for adding elegance and longevity to furniture. VigorousHome offers a beautiful variety of brass furniture hardware because we know details matter. Our brass hardware for furniture is ideal for updating or revamping furniture.
Why Brass Furniture Hardware?
Furniture makers have always loved brass for good reason. Interior designers and homeowners love its distinctive beauty and utility.
Timeless Beauty: Brass hardware is charming. Its warm, golden color gives any furniture a sense of luxury. Brass works with many decor styles, from traditional to modern.
Durability: Furniture wears heavily over time. Brass is known for its durability. It's corrosion-resistant, making it a durable furniture option.
Brass hardware can be clean and minimalist or elaborate and detailed. With its adaptability, you can discover items that fit your furniture and your style.
Brass is easy to maintain, unlike other materials. One damp cloth wipe can restore its sheen and make it look fresh again.
The VigorousHome Brass Hardware Collection
VigorousHome prides itself on supplying a wide range of brass furniture hardware. We have the right hardware for updating a vintage dresser or modernizing kitchen cabinets.
Our gorgeous brass drawer pulls and knobs will enhance your cabinets and drawers. Select shapes and sizes to complement your decor.
Cabinet Handles: Our brass cabinet handles bring luxury and usefulness to your kitchen or bathroom cabinets. They're simple to install and may instantly update your room.
Our robust brass furniture legs elevate tables, chairs, and cupboards. They offer solidity and flair in various heights and patterns.
Brass corner brackets and keyhole covers add style to your furniture. These minor tweaks can improve your piece's attractiveness.
Why Pick VigorousHome?
VigorousHome goes above and beyond to make home décor buying easy and pleasurable. Our user-friendly website lets you browse our vast collection. Fast and reliable shipping gets you your brass hardware for furniture quickly.
Our brass furniture hardware meets your high requirements, whether you're a DIYer or an interior designer. To ensure our goods look great and last, we use only the best materials.
Why settle for average when you can have remarkable results? Our brass hardware will enhance your furniture and show off your exceptional taste.
Finally, VigorousHome's brass furniture hardware adds the right finishing touch to home decor. Our classic brass hardware enhances furniture style and longevity. Discover our assortment online and start making your home a stylish retreat.